Remove all furniture (if possible),
Cover floors with painters drop cloths and furniture with plastic,
Remove damaged  drywall, plaster,
Support  the rest of drywall or plaster with board adhesive, screws, studs,
Seal damaged areas with oil-based primer,
Install insulation (if required),
Install drywall support: for small damages – stiff mesh, for bigger damages – wooden studs.
In some cases we install metal mesh and apply plaster compound,
Tape, patch, sand and prime with PVA primer,
Paint the ceiling with flat or semi-gloss  (Bathroom) paint.
Clean the job site.
Get paid
Usually the whole process takes one day.
Pur recent projects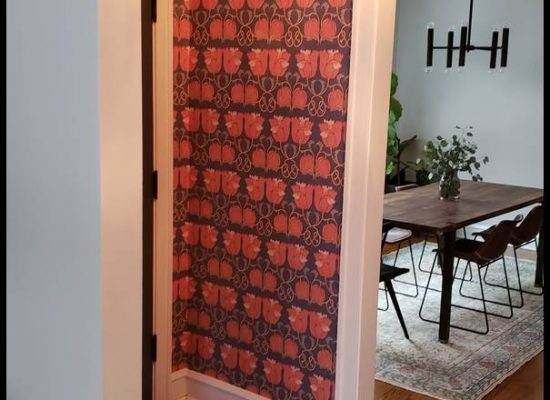 Repair drywall damages, nail pops, stress cracks. Sand the wall to remove paint lint. Apply ne coat of Roman RX35 clear primer. Install wallpaper provided by customer. At Windy City Painters , we are committed to helping clients in Chicago make their interior painting dreams a reality. Whether you are in need of residential or commercial services […]
Protect all floors with contrition paper prior painting. Cover surrounding walls with painters plastic before we start the cabinets painting. Remove cabinet doors, Scuff sand all surfaces and clean with paint thinner, Outside of cabinet boxes, cabinet doors and drawers: – one coat of adhesion primer, two coats coats of Sherwin Williams Emerald urethane semi-gloss […]
West Town kitchen ceiling and wall  drywall water damage repair:Remove damaged drywall. Trim drywall openings (1ft x 6ft and 1.5ft x 8ft).Install screws around drywall damage.Seal water spots with oil-based primer.Close drywall opening, tape, mud, sand and primer. At Windy City Painters , we are committed to helping clients in Chicago make their interior painting dreams a […]
See all our news
Look behind every good paint job in Chicago and you'll find excellent drywall preparation. While many people think that painting is all about just rolling and brushing a new coat on, the experts at Windy Painters Chicago understand that drywall and plaster work it's a must  for all quality painting execution.
Try painting on damaged drywall and you'll quickly see why our Chicago  plaster services are in demand. Even the highest quality paints will crack and peel, thus costing you more money in materials without delivering the kind of look you want. A Windy Painters Chicago  drywall specialist will fill holes, cover stress fractures, and make sure your ceiling is in the right state to receive new paint.
When needed, we can also perform larger drywall repair  services in Chicago. New installations and repairing water damage a-re a common request.  Whatever the specific case for your home or business, our drywall and plaster technicians will be able to get the job done.
For impeccable plaster and drywall work in Chicago that will make your new painting look its best, call Windy Painters Chicago, 773-818-6331