Remove all furniture (if possible),
Cover floors with painters drop cloths and furniture with plastic,
Remove damaged  drywall, plaster,
Support  the rest of drywall or plaster with board adhesive, screws, studs,
Seal damaged areas with oil-based primer,
Install insulation (if required),
Install drywall support: for small damages – stiff mesh, for bigger damages – wooden studs.
In some cases we install metal mesh and apply plaster compound,
Tape, patch, sand and prime with PVA primer,
Paint the ceiling with flat or semi-gloss  (Bathroom) paint.
Clean the job site.
Get paid
Usually the whole process takes one day.
Pur recent projects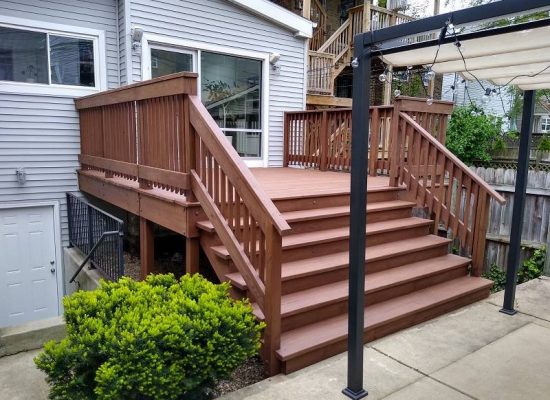 Last week Windy City Painters refinished small deck in Logan Square, Chicago. It was a three steps procedure: remove all existing finishes, dirt, buildups with Acrylic Stain remover and pressure washer – day 1. after 3 day painters sanded all floors, steps and handrails with orbital sander to remove splinters and rough areas – day […]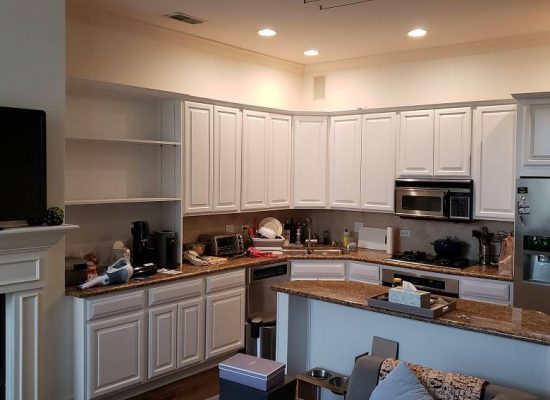 Lincoln Park vintage greystone condo building. Chicago standard shaker maple cabinets refinishing  procedure  included: sand the doors and boxes with orbital sander to remove peeling finish, clean all surfaces from  grease  with paint thinner, paint three coats of Sherwin Williams Emerald urethane enamel. Color extra white. paint application: HVLP sprayer. time of realization one week.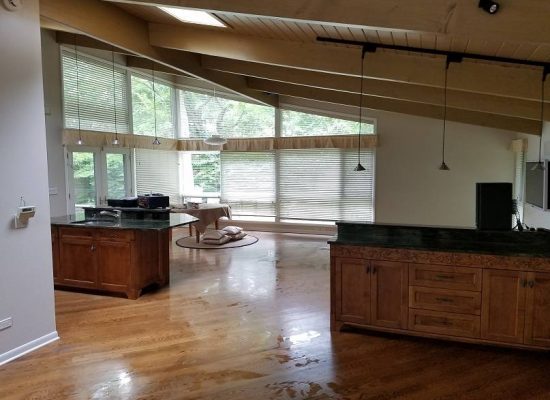 Windy City Painters painted this beautiful  house  last summer.  The scope ow work included: drywall water damages repairs, Stress cracks repair, ceilings painting – two coats of  Benjamin Moore Muresco ceiling paint. baseboards, crown moldings, step sides with risers,  trims and doors – two coats of Benjamin Moore  Regal Select white semi-gloss paint, walls with closets […]
See all our news
Look behind every good paint job in Chicago and you'll find excellent drywall preparation. While many people think that painting is all about just rolling and brushing a new coat on, the experts at Windy Painters Chicago understand that drywall and plaster work it's a must  for all quality painting execution.
Try painting on damaged drywall and you'll quickly see why our Chicago  plaster services are in demand. Even the highest quality paints will crack and peel, thus costing you more money in materials without delivering the kind of look you want. A Windy Painters Chicago  drywall specialist will fill holes, cover stress fractures, and make sure your ceiling is in the right state to receive new paint.
When needed, we can also perform larger drywall repair  services in Chicago. New installations and repairing water damage a-re a common request.  Whatever the specific case for your home or business, our drywall and plaster technicians will be able to get the job done.
For impeccable plaster and drywall work in Chicago that will make your new painting look its best, call Windy Painters Chicago, 773-818-6331